Business Process Re-engineering (BPR) to increase Efficiency, Effectiveness, Sustainability, and Profitability of your business.
Before knowing what all we do in BPR, it is important for you as a decision maker to know whether you need BPR or not? Look at below questions that would help you define the need for the BPR.
1. Do you think your business processes and strategies are tuned as per market?
2. Do you want to increase quality standard of your products/services?
3. Do you want to reduce employee turnover, keep them relavant & high performing?
4. Are you satisfied with current output/productivity of your people & business?
5. Do you feel any change is required in working style to match market standards?
6. Are you getting business reports on your computer at anywhere?
7. Are you looking for active administration of business?
8. Do your products/services need new avatar?

To go one level-up in the business, strategic and fundamental changes are required. We provide coaching/consultancy for optimizing your business strategy, processes, and systems so that it produces higher ROI- Return On Investment. We work on redefining and rejuvenating of business goals, strategies, execution plans, ways of working, KPIs, and level of results.

It is a gradual and long-term change (takes 12 months to 18 months) for getting desired outcome. As it is a time-consuming process and involves change management, we work dedicatedly with owners for strategy planning and with employees for implementing them.
Each business has some processes/ methodologies to work. All processes are interconnected and dependent on each other. Each business processs can be identified as system which takes inputs, processes them and delivers output. It works on a fundamental of GIGO - Garbage In Garbage Out. That leads to improvement on the inputs we give to the business.

We are not saying something out-of-blue, but what we are claiming is certainly new. You can enquire and schedule a call to discuss, how did we turned around more than 12 IT/Digital & Retail company to become more successful. We also provide BPR Training to your internal Change Agents, who can help you sustain the learning and implement accross all departments.

Steps we will follow for BPR,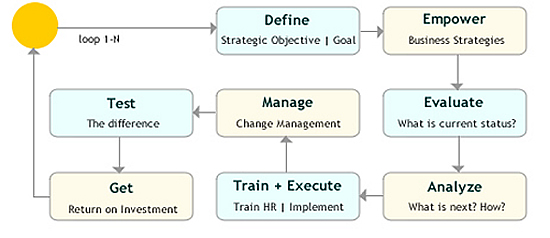 Contact Us for getting BPR for your business. Send Enquiry